Melania Trump's State of the Union guests
22:42 - Feb 01, 2018 |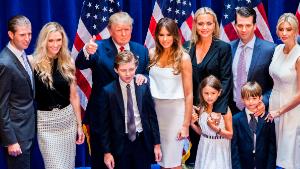 First lady Melania Trump and President Donald Trump will welcome beneficiaries of Trump's tax cuts and families who have lost loved ones at the hands of the MS-13 gang to the State of the Union address Tuesday night.
The first lady will sit with the 15 guests in her own box in the Capitol, the White House announced Monday. Guests of the first family have long been a tradition at State of the Unions. They typically illustrate the President's agenda and achievements and provide some insight into what the President will focus on his address.
All of the President's children will be in attendance Tuesday, with the exception of Trump's youngest, Barron Trump, press secretary Sarah Sanders told reporters.
Here's who will join the first lady on Tuesday night:
Elizabeth Alvarado, Robert Mickens, Evelyn Rodriguez and Freddy Cuevas
Agent Celestino "CJ" Martinez
Another guest that will center on immigration is Agent Celestino "CJ" Martinez, who is a Supervisory Special Agent for the US Immigration and Customs Enforcement's Homeland Security Investigations unit and whose investigations have led to more than 100 arrests of MS-13 gang members, according to the White House.
Jon Bridgers, David Dahlberg
The first lady also welcomes heroes that stepped up in the face of natural disasters, including Jon Bridgers, who with his non-profit rescue and recovery organization, Cajun Navy, helped victims of Hurricane Harvey. David Dahlberg, who saved 62 children and staff members from a raging wildfire in California, will also attend.
The President, who is sure to highlight his success with getting tax cuts through Congress, will likely point to Corey Adams in the first lady's box as an example of its success. Although not yet kicked into paychecks, Adams and his wife have decided to invest their money from the cuts into their daughters' education savings, according to the White House.
Officer Ryan Holets, who has been shot twice serving as a police officer in Albuquerque, New Mexico, and who adopted a baby with his wife from parents who suffered from opioid addiction, that he met while on patrol, will attend.
Steve Staub and Sandy Keplinger
Other guests include business owners, Steve Staub and Sandy Keplinger, who say they've seen a bump in their business this year.
Preston Sharp organized the placement of more than 40,000 American flags and carnations on soldiers' graves.
Corporal (Ret.) Matthew Bradford
Corporal (Ret.) Matthew Bradford, who after stepping on an improvised explosive device (IED) reenlisted in the Marine Corps as the first blind, double amputee.
An aviation electronics technician in the United States Coast Guard, Ashlee Leppert rescued dozens of Americans during last year's hurricane season.
Army Staff Sgt. Justin Peck saved the life of a fellow soldier in November who was seriously wounded by an IED blast in Syria. The team he was serving in was working to clear IEDs from territory previously held by ISIS.